Less Stressful Morning Routines for Young Kids with the JOY Octopus Watch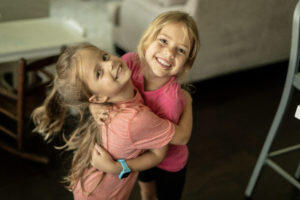 One of the more difficult things for me figure out as a working mom has been when and how to let my babies have more independence.
The reason for this is two-fold. On one hand I truly enjoy doing things for them and want to let this phase linger as long as it can. On the other hand, I am goal-oriented and thrive on efficiency, so I sometimes struggle with letting the kids work longer to achieve something I could do for them in half the time (especially when we're running late!).
A few months ago we started having the twins (who are 5yo) use an alarm clock to get up and get ready on their own. They loved it, but I felt like I spent my whole morning coordinating their to-do list and reminding them what else to do (teeth brushed? lovey in backpack? shoes & socks?). Since this inevitably interfered with my own ability to get the morning going efficiently, it seemed their move towards independence would just end in chaos or yelling.


We tried chore charts, reminder pictures, and traditional methods as well…everything just kinda fell flat or got forgotten quickly.
The post below contains affiliate links and an honest review of an item we were gifted, but not paid to discuss.
Then we found Octopus watches by JOY FAMILYTECH which have, quite literally, revolutionized our morning routine.
This watch gives them independence and makes morning routines so much less stressful.
They offered to send the girls a couple of watches in exchange for sharing our experiences, which I had planned to do just briefly on Instagram. However, they're helping our mornings run so much smoother that I decided I needed to write an actual post here where it would stay searchable for internet-land and linkable for me.
Why do we love JOY Octopus watches?
 No reading required.
The icon-feature with no reading was a big hit!
 We set our own routine.
You program a routine on the app and can schedule things in a variety of ways. Then you sync the plans to the watches. Routines can be on/off by day-of-the week and it's really nice to have them repeat for each weekday.
 It's not distracting.
This watch doesn't have games, frills, or extras and we truly love it BECAUSE of this.
 We're frustrated so much less.
The watch reminding the girls to do things is not only more effective than me, but it's way less frustrating for all of us.
 The kids LOVE them and their new independence!
I think they love the fact that they have expectations and a routine to follow each morning. Or maybe they love the new independence it's providing, but they've been using them every weekday for a few weeks now and still get excited when they finish everything in their morning routine.
We had tried traditional reward calendars, magnetic reward calendars (which we loved, but just didn't use regularly enough), yelling, begging, and had finally just gotten to where we seemed to be doing everything for them. This wasn't cutting it, especially with a 2yo to get ready and another brother on the way. I can't say enough good things about how much easier our mornings are now.
There are a few features we'd like to see added, so in the name of full disclosure I want to include a couple of those here.
Cons/Features We'd Like To See Added:
Cost may be prohibitive for some.
It's splash proof, but not waterproof.
We had a near-miss with Amelia's and the backyard sprinklers.
Creating the routines was a little cumbersome.
POST EDIT —> This can be easier and I just didn't discover the feature. Here's a video link explaining how to VERY easily transfer routines from kid-to-kid. Thanks, Octopus!
No wireless syncing.
I would really like to be able to add "Dinner!" 10 minutes before dinner is actually ready and sync it to the watch they're already wearing. Unfortunately, you have to set times preemptively and sync connected to an outlet. This is also the reason these have been way more useful for us in the mornings, when routines are constant, than in the evenings when we are less scheduled.
They sleep in them at night and the watches vibrate to wake them in the morning, then they get up and get their day going. It's truly been a joy to watch them blossom and be excited about everything they're doing without having to be told. We charge them while they're at school and they put them back on (some) evenings for bedtime routines.
Use "MamaDoctorJones" for 20% off if you decide to try them out.