7 Tips for a Low-Stress Family Roadtrip | Traveling with Young Kids
This family travel post is sponsored by Summer™
and includes an honest review of their 3dlite+ convenience stroller.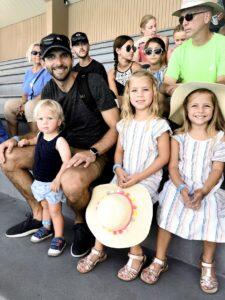 Taking a roadtrip when you have young kids can feel like one of the most daunting tasks, especially if you have a long drive and/or a lot of children. We started traveling with our babies almost as soon as they were born – the twins were born at 35 weeks and 4 weeks later we were roadtripping across Texas for my residency interviews. Since then we've roadtripped countless times with our young kiddos – including all around the South Island of New Zealand! I definitely don't claim to be an expert and we've had our fair share of grumpy kids (and…parents…definitely parents too) along the away. Despite that, I wanted to share some of our favorite ways to make roadtrip destinations enjoyable for family vacations with young kids.
1 | Segment the Drive – FUN STOPS!
Look at your route before you leave and split it up into 3-4 hour segments. Realistically you're not going to get more than 3-4 hours of happy road tripping at a time out of toddler-age kids. Find a few places to stop along the way and let the kids get out and be kids – we've done splash pads, parks, children's museums, indoor playscapes, and trampoline parks. Any fun stop-off is always big hit in our caravan.
2 | Be Flexible
Listen, I'm as much a planner as anyone – I like to have a plan and I like to stick to that plan. For the purposes of roadtripping with young kids, though, try not to force the schedule. If there is any time to adopt a "go-with-the-flow" attitude it's during a roadtrip with young kids.

If you have a planned stop and the whole crew is sleeping, drive on super mom (or dad!). And if you need to stop after only a couple hours because someone needs a potty break or is losing their mind over a dead iPad, so be it. Traveling with a car full of crying or whining children is absolutely zero people's idea of a good time.
3 | Summer 3DLITE+ as your Compact Stroller
On our last big road trip we forgot to take a stroller. I know if your kids are bigger this doesn't matter, but we made one of our segment stops a local aquarium, we were missing that stroller for our sleepy 2yo. We ended up buying a crappy umbrella stroller that didn't recline and only made our life more difficult. Enter – Stroller which takes up the same minimal footprint as that crappy thing, but makes our lives SO MUCH EASIER!

Product Review: Summer sent me their 3DLITE+ stroller to try out and review and I am in love. It is absolutely our new travel stroller, we immediately trashed the one we bought on that failed roadtrip and will use this in it's place. The price point is excellent (especially given that you about 6 of you told me on IG that you've had this for years and it's still in great shape!), the stroller is sleek and functional. We've had a LOT of strollers through the years and as far as travel/daily use goes this one definitely wins in my book. It rolls easily, putting it together was super simple and it even has a place for my phone (because…we all know that's coming with us). Anyway, can't recommend them highly enough. I love working with Summer and hope to continue this lovely relationship I've formed with their brand. MDJ thumbs up!
4 | Enjoy the Journey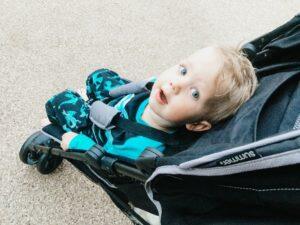 Don't try to cram everything into one day – plan extra time to stay overnight somewhere if you need to. It doesn't matter if once-upon-a-lifetime you could have stomped out the whole route in one day with just you, your Red Bull, and Snoop Dog on blast. That's not going to cut it with littles, so if you want to travel with your kids (which you should!), prepare yourself for it to look a little different than the glory days. It's still good, just enjoy the process.
5 | Organized Activities & Snacks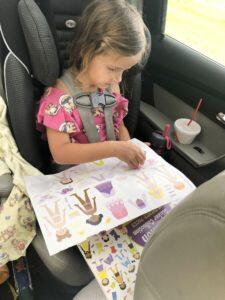 Try to keep everything you need organized – this includes snacks, kids activities (we LOVE these reusable sticker books for travel and absolutely fell in love with "paint by sticker" books this past trip), small prizes for rewarding good behavior, etc. I typically put myself in charge of deciding when to get out all the activities, otherwise the kiddos will go through them all before we make it out of town. I make it a point to arrange the car ahead of time and give everything a "home" so we can avoid ending up with markers and sticker books all over the floorboard….but, usually that still happens. 🙂
6 | Encourage Rest Times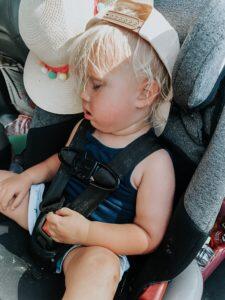 If you're driving a full day find some times that are designated rest times for the kids. Turn the sing-alongs, put the crayons away, and consider playing white noise in the backseat. Make sure everyone has a blanket, pillow, and lovey – encourage napping for younger kids and quiet time for the big kids. I usually will give my older kiddos the option of watching an iPad movie during this time if they truly don't need a nap.

In regards to iPad movies – we use this car mount for the forward-facing kids to be able to watch shared movies on the iPad in the backseat. We have headphones for each big kid and a splitter so they can still share…I refuse to listen to Zootopia on repeat for 42 hours, so headphones are a MUST.
7 | Snacks
We usually stock up on snacks before we leave and arrange them in a box that I can reach and hand out to the kiddos as needed. We're not super strict on what our kids can or can't eat at baseline, everything in moderation is a key in our house – but this is especially true when we're wanting to bribe them into cooperating in the car. So, don't judge our Fruit Loops and Cheeto fingers, our kids are traveling happy and we'll eat some carrot sticks and quinoa when we get to our destination. 🙂
Alright friends, I hope that was helpful! As you know we absolutely adore traveling with our crazy circus of a crew. We hope that by sharing some of our family's adventures and tips and tricks to traveling with a big crew we will inspire you to do more of the same!

If you have any questions, you know where to find me – Instagram and YouTube, MamaDoctorJones at your service!
---
I value you as my community here and your time is important to me.
Thank you for giving me a portion of your day & supporting me endlessly.
As you all know, when I do sponsored posts or ads I always request the product to try first and only continue with the deal if I feel I can genuinely recommend the product to you as my friends. Rest assured Summer™ nails it for affordability, functionality, and versatility. I am thoroughly impressed. I have enjoyed working with them on two separate product campaigns now and truly love them.