Medicine, Marriage, Family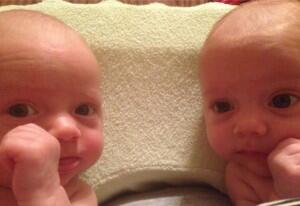 I remember when I was considering applying to medical school being terrified that becoming a doctor meant I'd never be able to have a family. Every Google search led to horror stories about divorce, blogs berating physicians that chose to have children, and forums full of miserable doctors. I almost chose a different career path purely out of fear.
As I've mentioned before I strive to make this blog a balance of medicine and other things – particularly family. I want my blog to serve as a place for pre-meds and medical students with these worries to find a positive story.
I love blogging about medical training and education, but the goal of Mind On Medicine has always been to create a place to write what we might sit down and talk about over a cup of coffee…and I can guarantee right now there would be lots of talk about mothering multiples, being a working mom, breastfeeding twins, returning to work, sleeping in 2 hour chunks, etc.
So, in order to continue in my endeavor to have work-life balance on this blog, I'm going to be starting what we will oh-so-creatively refer to as "Twin Tuesday." On Tuesdays I'll share anecdotes about adorable babies (obviously), but I also hope to delve into some of the challenges and excitements of being a mother in medicine.
I hope if you stumbled on this blog and you're worried about medicine and family life and marriage that you will stick around! It's not easy, but it is possible…it's an adventure that I'm so glad I have chosen to embark on. And, while I still have a ways to go, knowing what I know now I'd still choose to do it this way!
Also, if you're considering throwing your dreams of medicine out the window because you think you have to choose one or the other, I hope you'll email me first so we can chat. I've been in your shoes!