Paxton's Mid-Century Modern Nursery
When we found out we were expecting "Baby Patpat" I started brainstorming modern nursery plans and I quickly fell deep in love with a crib that was totally different than any of the ones we've had for the 3 other kiddos. It took me a few weeks to decide if I would buy it, but in the end I couldn't get my mind off of it and it inspired the mid-century modern feel of his entire nursery.
The calm, deep navy hues and warm textures of this cozy boy's nursery are balanced so nicely with the angles and sharpness that bring in a midcentury feel. His nursery has swiftly become our favorite room in the house, mostly because it's the only one in the house that's actually decorated, but also because it's terribly dreamy.
photography by Shelby Schiller Photography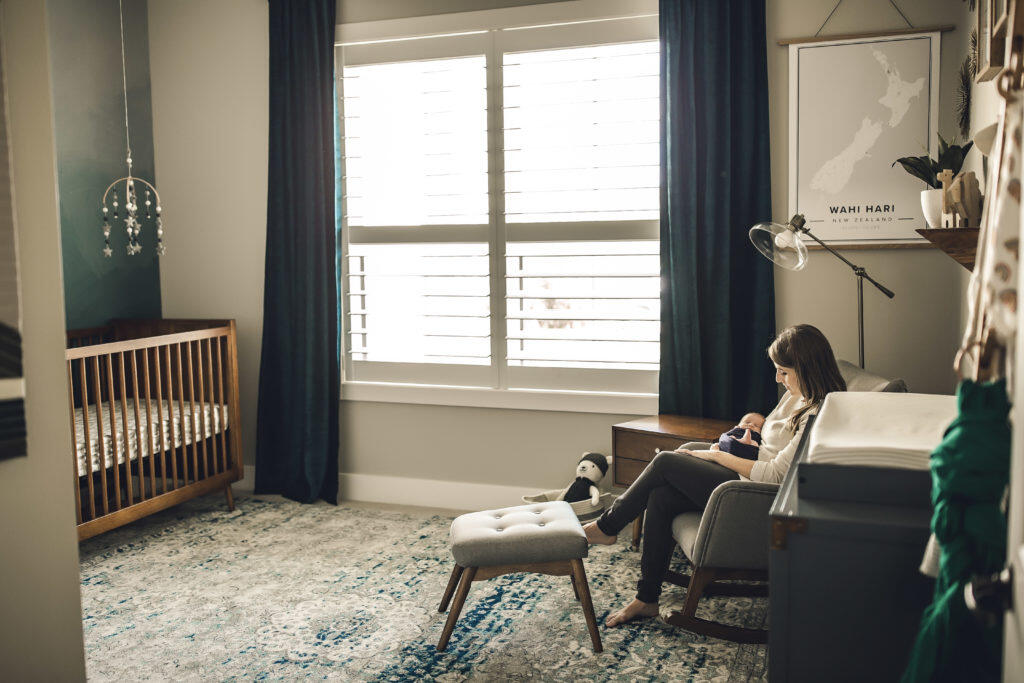 The grey on the walls is revere pewter by Benjamin Moore – it's the color the builder chose and it's all throughout our house. We have loved it and found it goes so well with any decor we choose that we haven't felt the need to paint anything since we moved in. Side Note: On their website it looks very tan, but in our home it's definitely looks grey, not tan.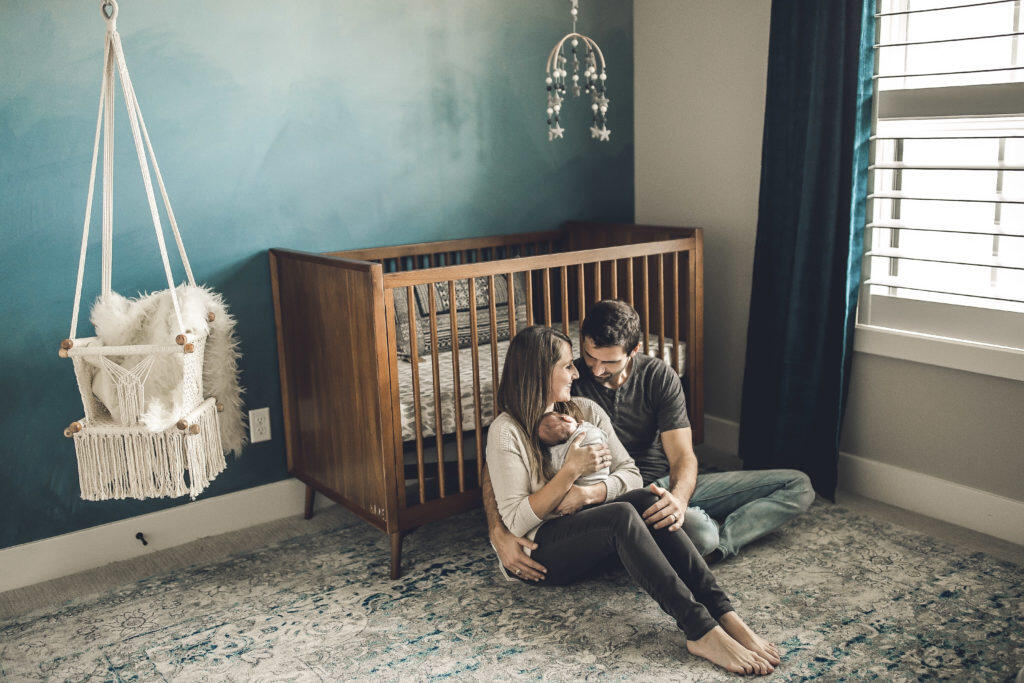 The accent wall really makes this room complete. It was a gift from Anewall – we chose Blue Ombre Roke Mural in traditional paper – it is perfect. I'm absolute, positively in love with this wall. It's a nice shade of navy (though it appears a bit more teal in these photos than in real life) and it is simply gorgeous. It's traditional wall-paper, which was an adventure to hang because, as it turns out, literally nobody knows how to do that these days (high – we're living in the 80's). We actually had to call in an SOS to family friend & wallpaper hanging expert who lives out of town (thanks Bettie! We owe you) to get it hung after failing to find anyone in town who knew what they were doing. It ships in panels and was very easy to put up once we had someone who knew what they were doing.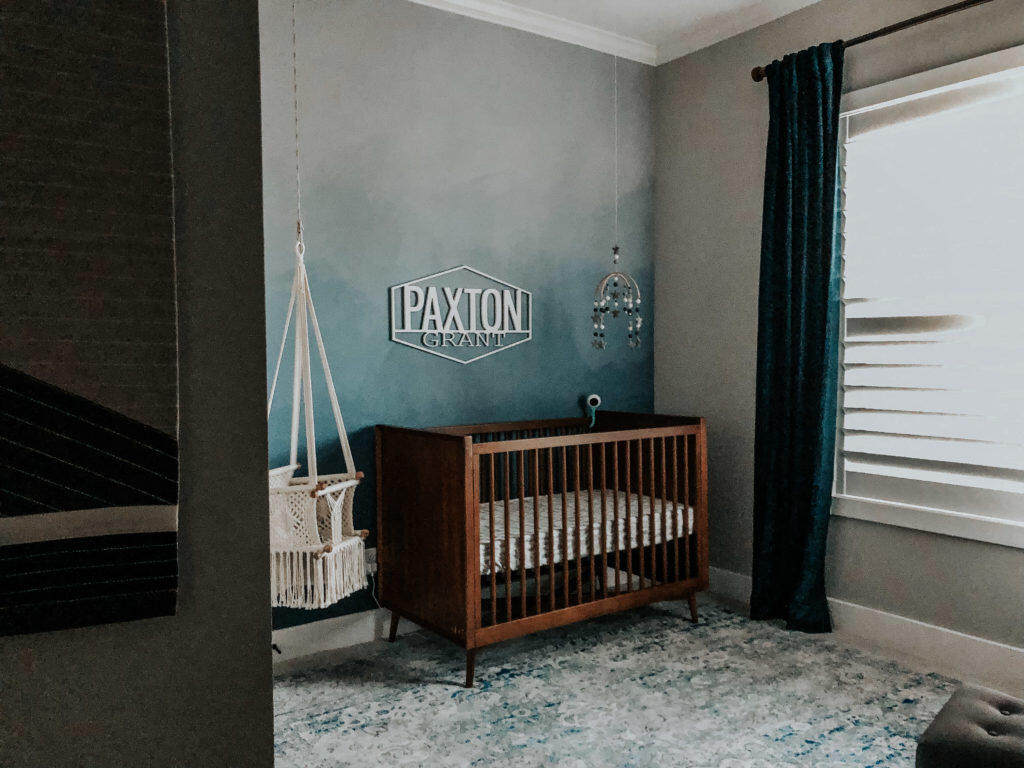 Since Patpat didn't have a name until after birth the nursery photos were taken prior to his name plate arriving. The next photo is a simple iPhone pic, not the marvelous work of Shelby, but I felt like I needed to include at least one pic of the finished product. The name plate is from Etsy.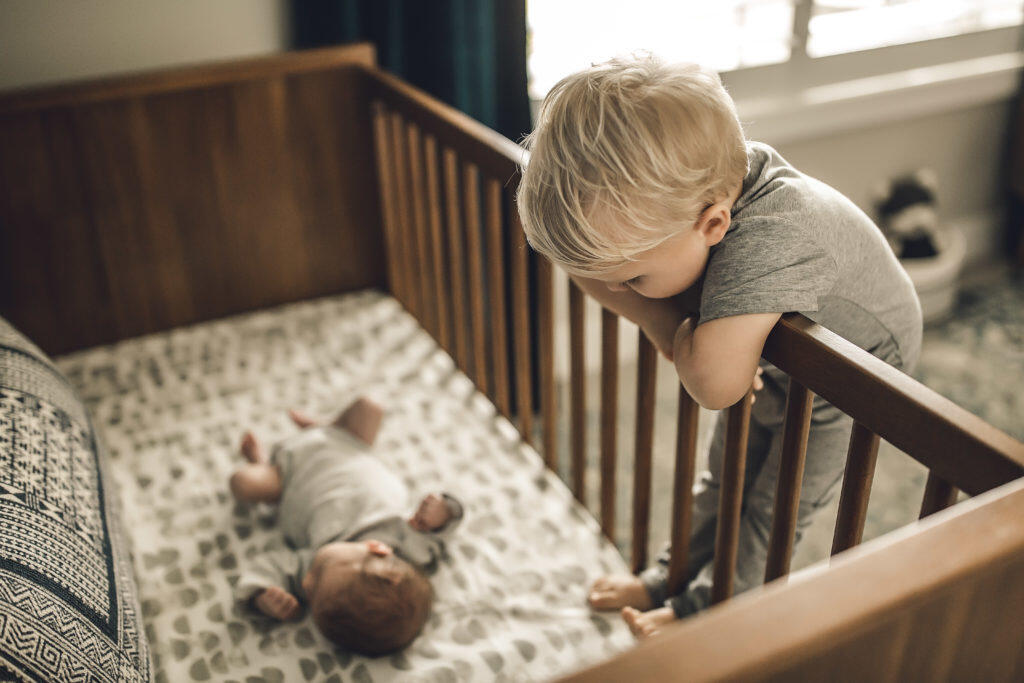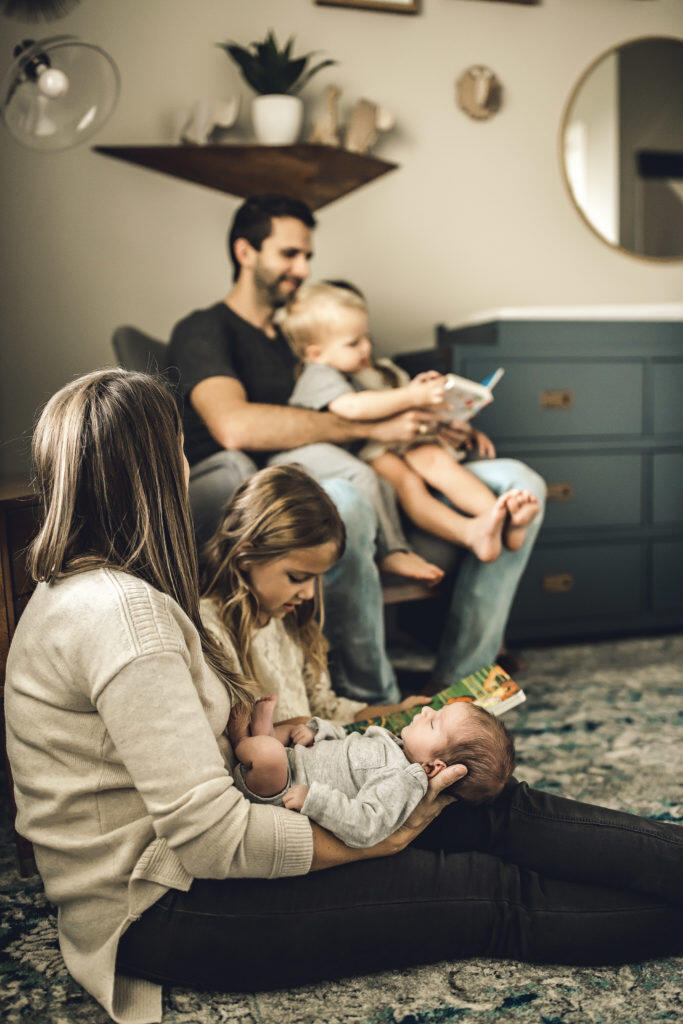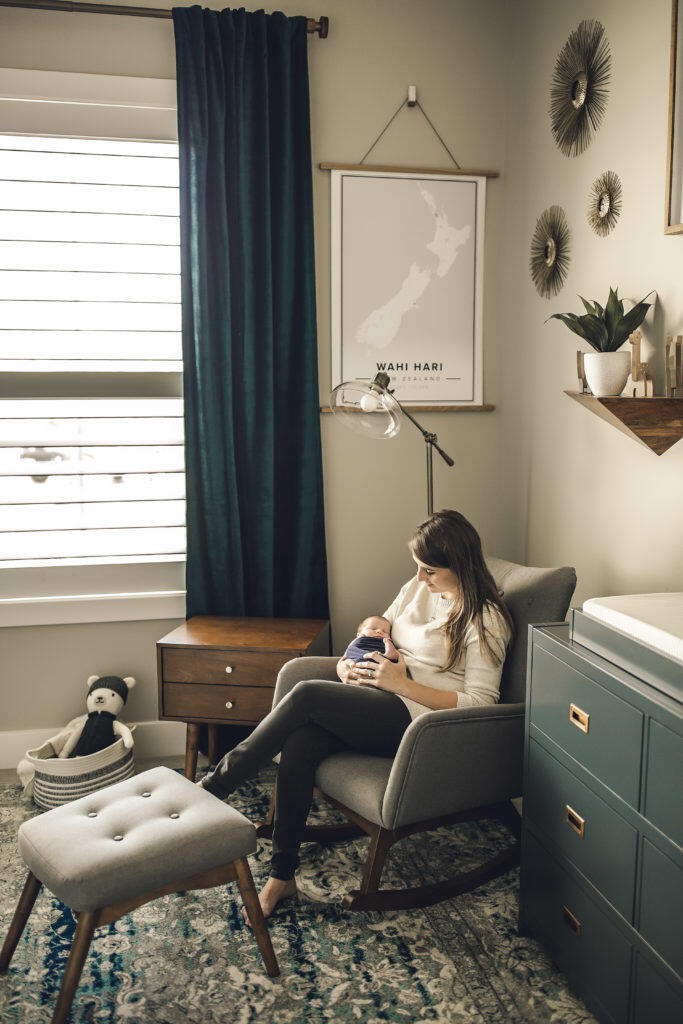 As you guys know, we love New Zealand. There are two subtle touches from the country we love included in Pax's nursery – one of them being this gorgeous map and frame from Mapiful. "Wahi Hari" is Maori for "happy place." Paxton was a wee embryo on our last visit to the South Island, I didn't even know I was pregnant yet and found out he accompanied us for the adventures a couple days after we returned.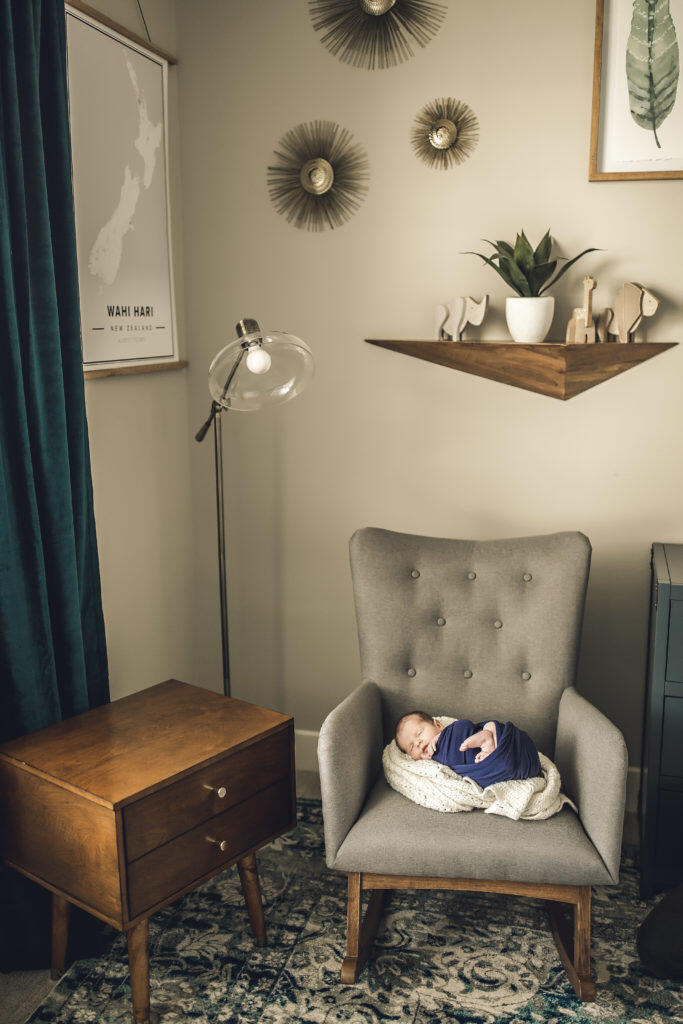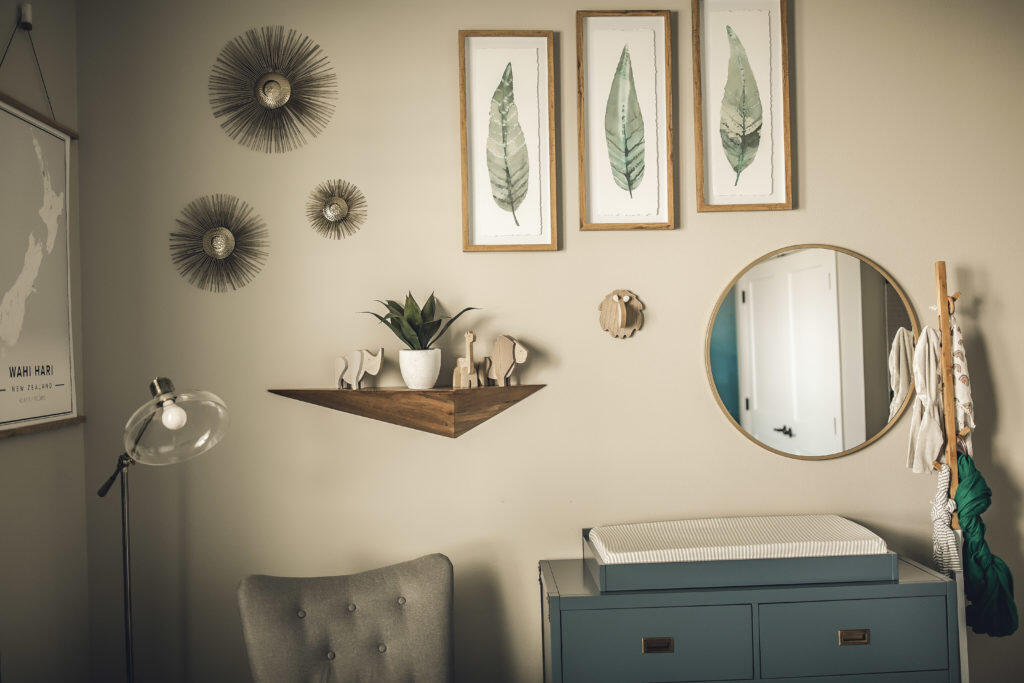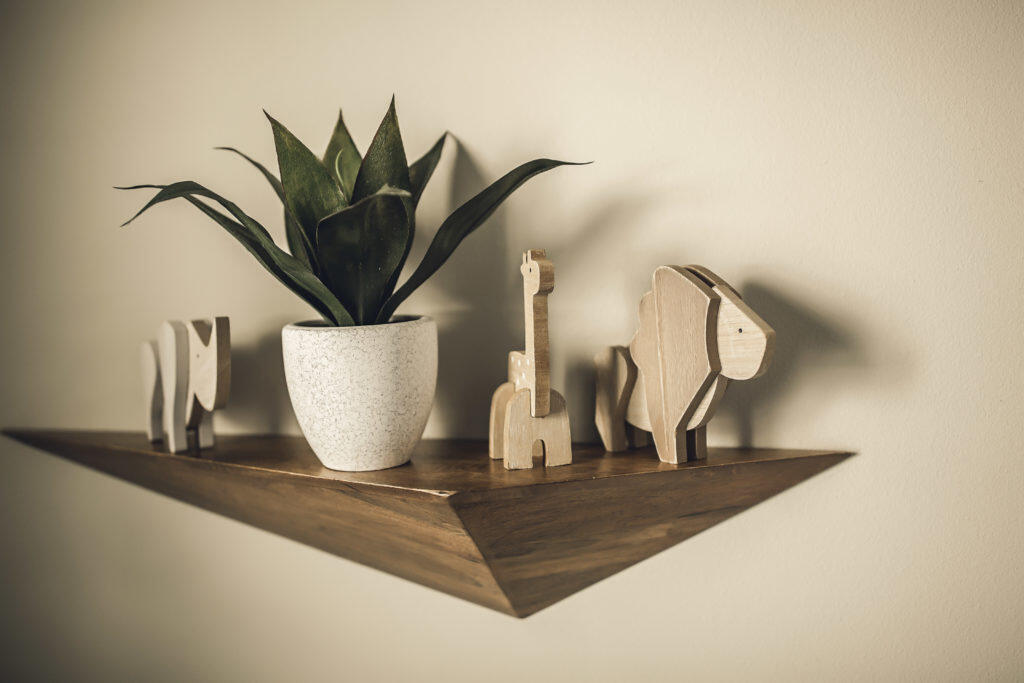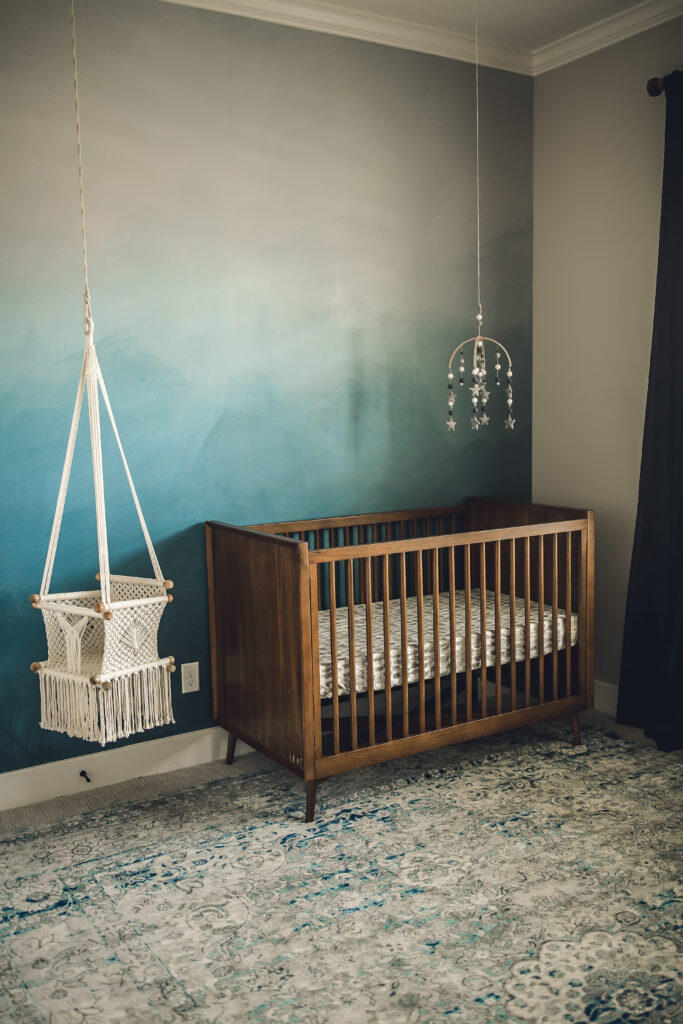 The mobile is the other subtle New Zealand detail. At the time I found it and fell in love I had no idea, but upon ordering I realized that the gorgeous felt mobile had been sent from Hamilton, New Zealand. So, although it was no on purpose, it felt very fitting. The creator is Tik Tak Design Co. and she was wonderful to work with – excellent quality and SUPER quick shipping (seriously it came from across the world in less than a week)!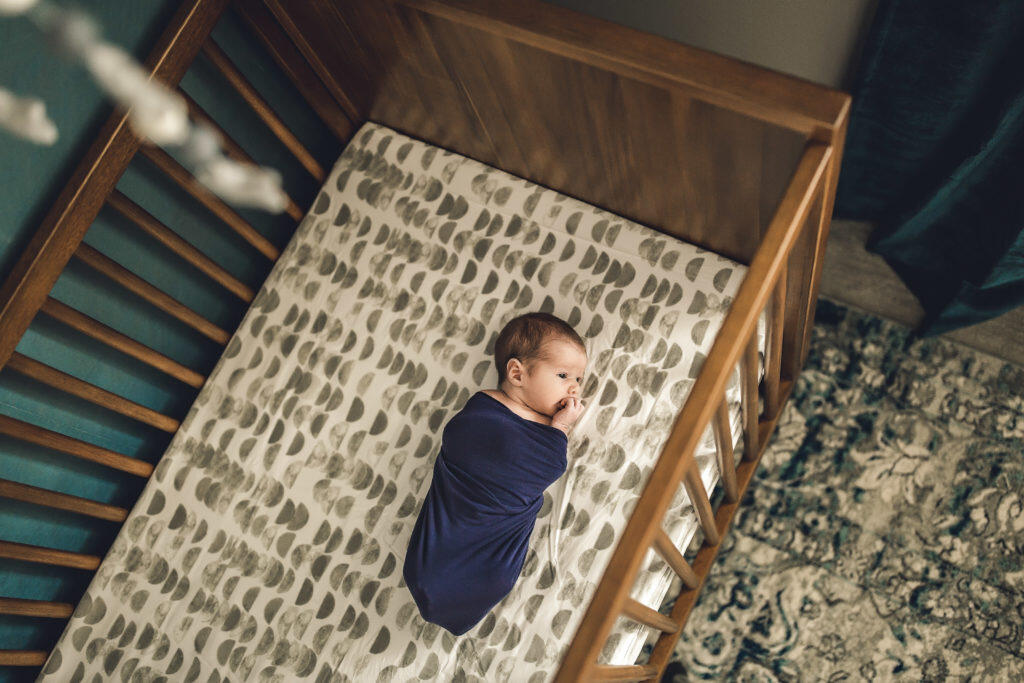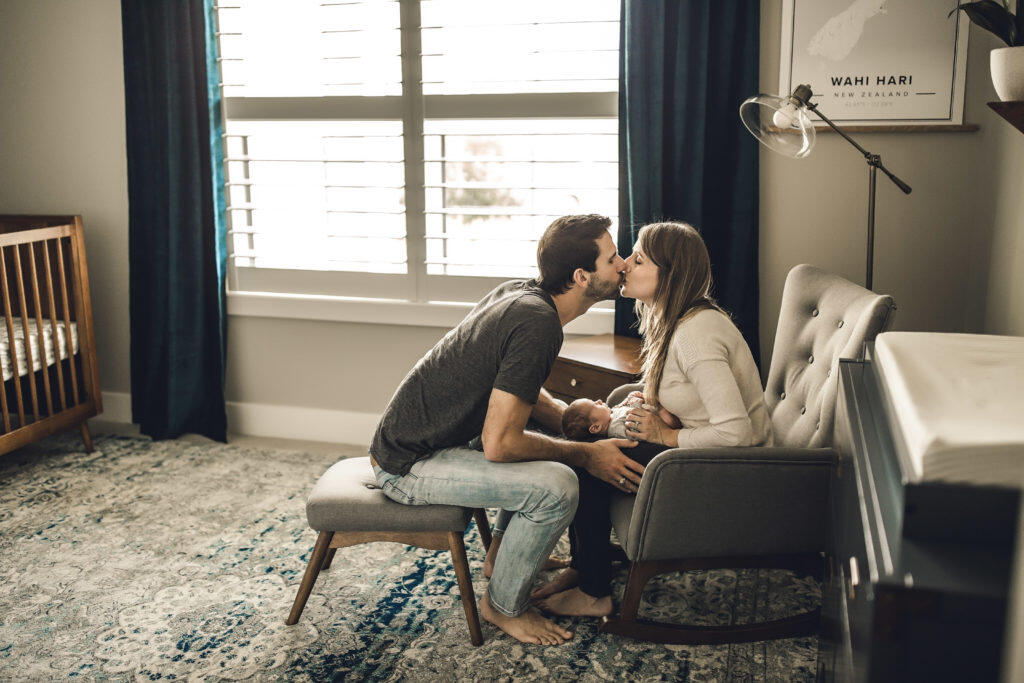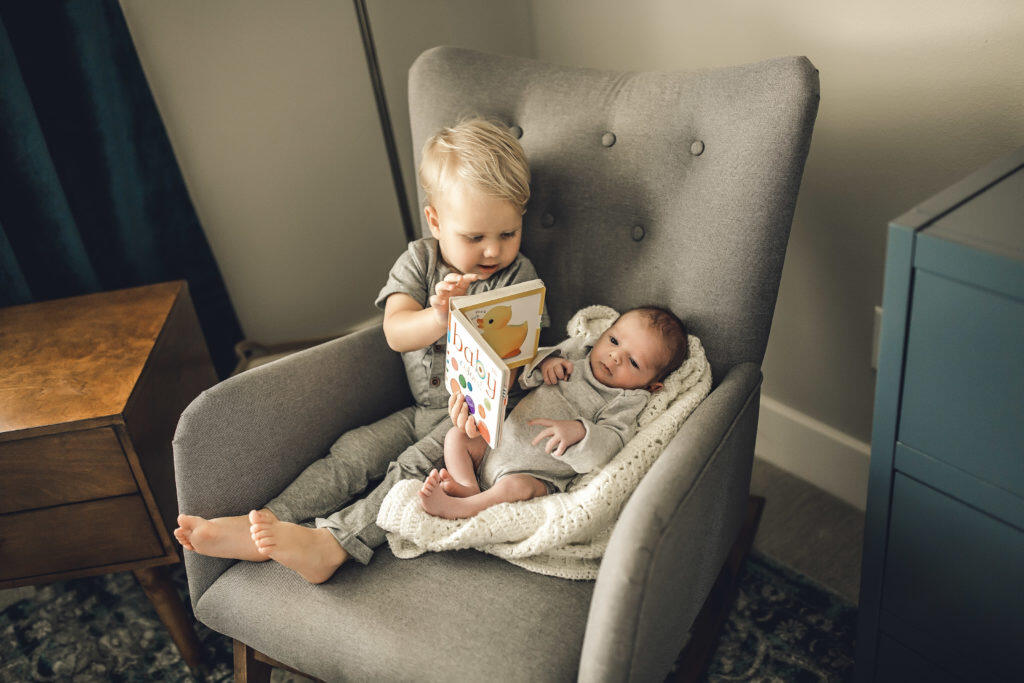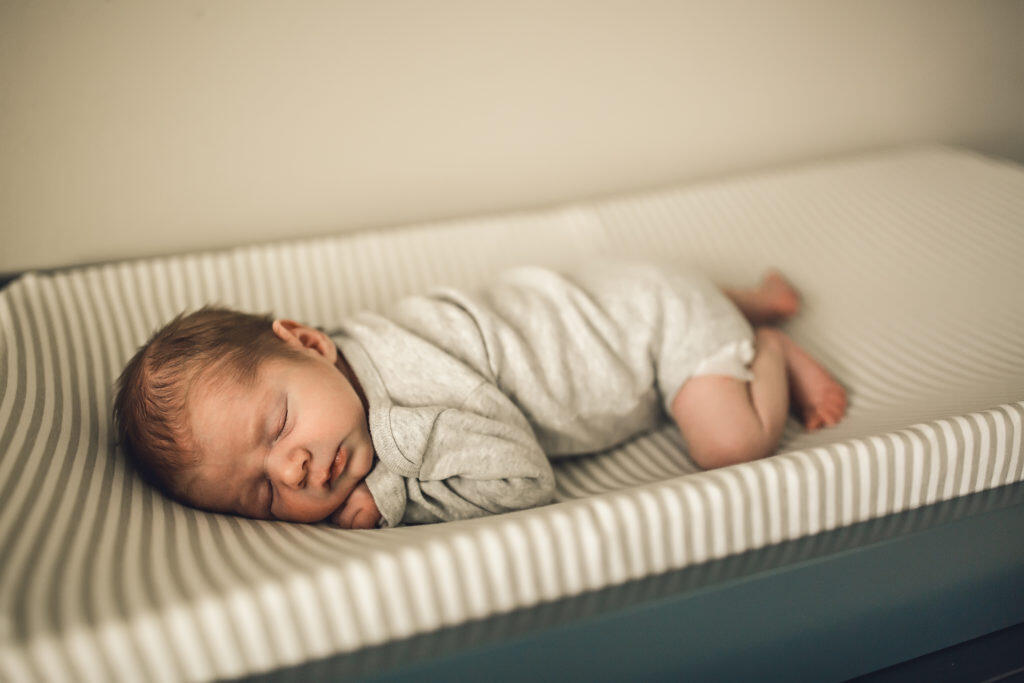 D E T A I L S
paint color: revere pewter – benjamin moore / accent wallpaper mural gifted from anewall / mid century modern crib: west elm / crib mattress / crib sheets: west elm / felt mobile / name plate / long pillow: world market / area rug: rugs usa / end table / modern rocker: wayfair / modern ottoman / floor lamp / graphite blue changing table / changing pad / changing pad cover / prism shelf: world market / wood animal figures: hobby lobby / triple leaf print / round mirror: kohl's / map print: mapiful / starburst set / blue velvet curtains: west elm / mid century modern curtain rod: restoration hardware / macrame swing: adelisa & co. / ceiling mount for swing / swing rope diy macrame w surgeons' knot skills / quilted tapestry / rope basket / knit toy: gifted from cuddle & kind / navy swaddle / coat rack: wayfair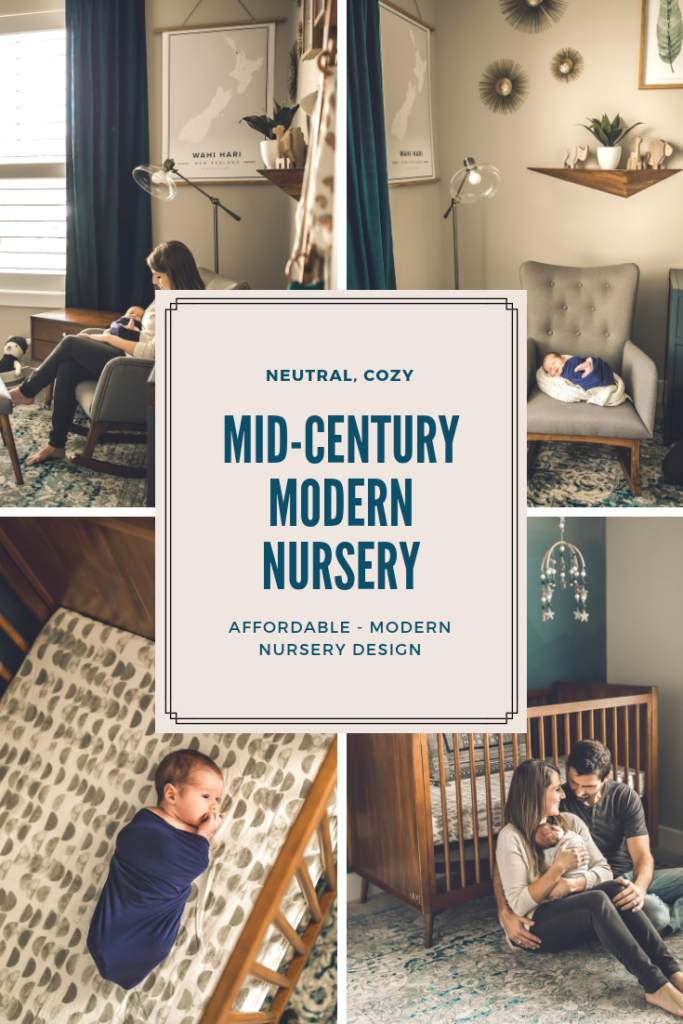 Other Posts You May Enjoy: