Shift Change
1 Comment
Thank you so much to everyone who helped me choose a name for the MomMD blog! My first post will be up on their site around 8am Monday, I hope you'll stop by and give me some feedback on it! Here are the final results from the poll, which I ended on August 16 at 6:30pm: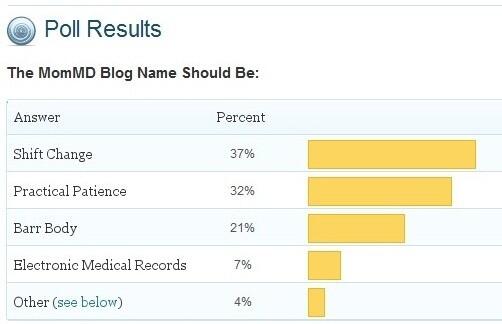 I loved both Shift Change and Practical Patience and those two were basically tied the entire time. Shift Change squeaked by in the end, so that's the name of the new internet crib.
No, I'm not abandoning Mind On Medicine! This is still my home, I'll just be posting at MomMD once a week or so in addition to being around here just as much. I am so excited to have the opportunity to be a part of their team.
Shift Change originates from the idea that, as a woman in medicine*, you have two shifts – your career shift and your family shift. I thought the name was fitting since the focus of my blogs over there will be about the challenges, benefits and experiences I find mixing medicine with family.
Anyway, please stop by Shift Change Monday sometime and let me know what you think of the blog and tomorrow's post about how much weight happiness, skill and lifestyle considerations should hold in your choice of specialty.
Thanks so much for your help in choosing a name! Y'all seriously rock my socks off.
*obviously this applies to anyone who works in anything and has a family, but this specific website focuses on women in medicine, so my explanation of the blog title focuses on that as well
Other Posts You May Enjoy:
Trackback URL Link:
I'm an ObGyn. I started this blog as a medical student (some would call that doctor school) and now I'm working as an Ob/Gyn, which is seriously the coolest job ever. I'm a twin mom and recently added a baby brudder to the mix. My life story through November 2010 can be viewed here. The events in the many years following can be summed up as wedding bells, books, exams, babies, and doctoring. I started this blog in hopes of landing a role in a Lifetime movie so I could quit medicine and move to Hollywood, but that hasn't happened...so if you wouldn't take medical advice from Angelina Jolie, you shouldn't take it from me. I may not even be a real person. In fact, I'm probably a spambot. Or possibly a 15 yo boy blogging from a dingy basement. If you're really interested you can read more about me here. If you have any questions or want to guest post contact me.
Dr. Jones on Instagram
Something is wrong. Response takes too long or there is JS error. Press Ctrl+Shift+J or Cmd+Shift+J on a Mac.