Pediatrics Clerkship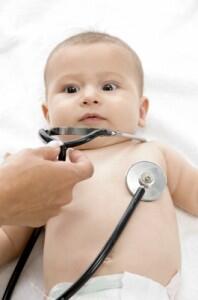 This is a clerkship I was extremely excited about, because it was a field I was seriously considering going into! In fact, up until my third year Ob/Gyn rotation I was almost positive I would be a pediatrician some day. The clerkship was a lot of fun and definitely made my decision difficult, but as you already know Ob/Gyn ended up winning my heart…but not because Pedi let me down.
Pediatrics
This specialty is focused on children, there's a lot of "normal" in pediatrics and you tend to get to know your patients and their families very well. The residency to become a general pediatrician is 3 years and you can specialize in any number of things, from neonatology to oncology, after you finish.
The Clerkship
8 Weeks: One week is spent in specialty clinics, one week with neonatologists in the NICU, two are dedicated to inpatient pediatrics and the rest are spent in general pediatric clinic.
We had frequent morning lectures and case presentations by the residents to help prepare us for the NBME exam. These were *key* in doing well on this exam for me.
One overnight call while on the week of Neonatology.
Daily Life
Clinic Weeks: Basically 8am – 5pm.
Inpatient: Usually pre-round about 6am, round about 7am and spend the day admitting patients and making sure all is well with admitted patients. Checkout around 5:30pm.
Neonatology: Pre-round about 6:30am, round about 7:30am, and spend the day attending deliveries, taking care of procedures (lumbar punctures, circumcisions, etc.), and checking up on lab work/radiology for patients
Pediatrics Clerkship Books
At our school we have a wonderful physician who provided excellent clerkship notes that were key in doing well on the exam. I wish everyone had those notes.
Case Files Pediatrics: Easily the best-written book you can buy for preparing for the shelf exam. If you know this book well, you will score high on the shelf.
Blueprints Pediatrics: This book is decent if you need a text-book style, rather than case-style, book to read. I had it as a free hand-me-down and referenced occasionally, but I don't know that I would have been very happy with it as a purchase if I had to pay for it. It was just ok.
First Aid for the Pediatrics Clerkship: Again I had this book as a hand-me-down and it was just okay. However, had I not had the notes from our clerkship coordinator, this & Blueprints may have been a tad more useful to me. I think we are spoiled on this rotation with great teaching.
The Shelf: This shelf exam is very age-oriented (whoda thunk it?). What I mean by that is knowing key things like what heart defect causes a "blue baby" immediately after birth and what heart defect causes a "blue baby" months after birth is what will help you do well on this shelf. A lot of the diseases have similar symptoms, but appear at different ages and this is key. Also, knowing basic milestones and developmental timelines will gain you easy points. I felt like it was heavy in infectious disease, cardiology, and respiratory.
What I Like
The Patients…well, most of them: I love kids and I loved that on this rotation I got work with kids all the time! They are so resilient and seeing them overcome things is really amazing.
Pediatricians: In general, this is a very upbeat, happy field. People tend to have great job satisfaction and be overall happy with their life as a pediatrician and it definitely shows in working with them. I loved the positive morale and environment.
Family-Friendliness: Pediatrics tends to be one of the areas of medicine that is relatively family friendly. Most of the residents have children and if they don't already have them most want them some day.
The Hours: Compared to surgical specialties, the time-commitment of this specialty is a little bit better. Because pediatrics is heavily clinical, it offers a more consistent routine. Although, there are definitely rotations in pediatrics that are more intense.
What I Didn't Like
The Patients…a few of them: I loved working with babies and toddlers and little kids, but the ins and outs of adolescent medicine made me feel like I was not cut out to be a pediatrician. I simply am not hard-wired to effectively discuss tobacco and alcohol use with a 13 year old. 
So. Much. Clinic: I like clinic in small doses, but Pediatrics involves so much clinic and very few procedures, no surgeries, and  a lot of chit-chat. 
Well-Child Checks: To be a good pediatrician I believe you truly have to be interested in normal development of children and, unless it's the normal development of *my* children, it honestlyjust doesn't fascinate me.
Lack Of Intellectual Interest: The subject important to pediatrics just don't fascinate me like some other areas of medicine do.

Overall, I did really enjoy this clerkship. I loved most of the patients, the parents didn't bother me, and the work was okay. Nothing about pediatrics really fascinated me the way reproduction and women's health does and nothing caught my attention and heart the way reproductive endocrinology has, but pediatrics is a great field. The hours were tempting, the morale was attractive, and the people were great…but in the end it just wasn't me. 
My Take On The Other Core Clerkships
Image Credit: imagerymajestic | FreeDigitalPhotos.net