The Reply-All Button Ruins Lives
No Comments
I like to give people the benefit of the doubt and assume that in 2012 everyone who has an email address understands the difference between a "reply-all" button and a "reply" button. Unfortunately, I am discovering this is not the case and, as such, feel it is my moral duty to inform you all that reply-all can ruin your life (and annoy the snot out of me) when used incorrectly.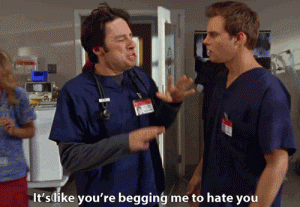 So, what's the difference?
Reply: Sends an email response to the original sender of the email.
Reply-All: Sends an email response to all 28 people who received the initial e-mail.
And what's the problem?
Let me set up a scenario for you:
Jim sends an email to the whole company, including me, your aggravating, lunch-stealing, once-a-week showering boss, discussing all the nitty-gritty details of the meeting I'm holding Friday that will likely cut into your lunch time. He explains that we won't be having lunch during the meeting due to recent budget cuts around the office.
You, my frustrated, overworked, underpaid, reasonable employee decide you'll respond with a complaint to your mutually disgruntled friend, Jim, about said meeting and me, your horrible boss.
You Reply:  Message goes to Jim. Jim laughs. Jim responds. Your worries and annoyances are aired. You feel better to have vented.
You Reply-All: Message goes to Jim…and 14 other people you work with, including me, your smelly boss. You feel better to have vented. You lose your job. You are unemployed. Your dog starves to death, because you can't afford food for him.
Conclusion:
The Reply-All Button Ruins Lives…and threatens the lives of animals…particularly when used inappropriately. It would beheave you to take note of this Public Service Announcement. Thank you for your time.
Other Posts You May Enjoy:
Trackback URL Link:
I'm an ObGyn. I started this blog as a medical student (some would call that doctor school) and now I'm working as an Ob/Gyn, which is seriously the coolest job ever. I'm a twin mom and recently added a baby brudder to the mix. My life story through November 2010 can be viewed here. The events in the many years following can be summed up as wedding bells, books, exams, babies, and doctoring. I started this blog in hopes of landing a role in a Lifetime movie so I could quit medicine and move to Hollywood, but that hasn't happened...so if you wouldn't take medical advice from Angelina Jolie, you shouldn't take it from me. I may not even be a real person. In fact, I'm probably a spambot. Or possibly a 15 yo boy blogging from a dingy basement. If you're really interested you can read more about me here. If you have any questions or want to guest post contact me.
Dr. Jones on Instagram
Something is wrong. Response takes too long or there is JS error. Press Ctrl+Shift+J or Cmd+Shift+J on a Mac.