Hoarders: Med Student Edition
9 Comments
I've expressed my disdain regarding wearing my white lab coat many times around here – it's hot, it's uncomfortable, it's germy – but something I've never allowed myself to admit is that sometimes it can be kind of useful (SOMETIMES. like when it's not being annoying…or stiff…or disgusting). The pockets are just under 14 light years deep, so if you need to carry a galaxy or two with you into a patient room or 14 Red Bulls and a pint of icecream back from the cafeteria, you're in luck.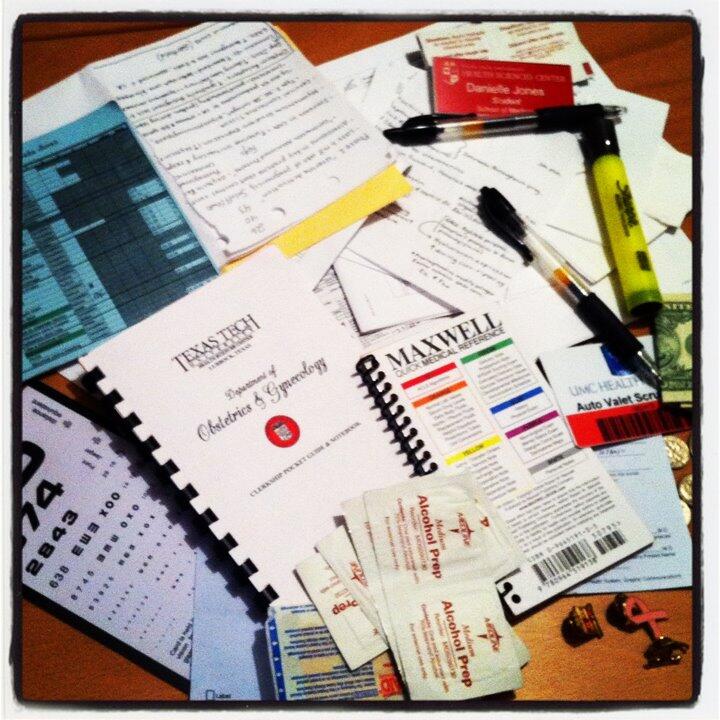 It's been just over a week since I last scavenged through this thing, here's what I found in today's weekly purging before the ceremonial washing of the MRSA mall:
14 Alcohol Prep Pads
1 Large Bandaid
1 Maxwell Quick Reference book
1 TTUHSC Ob/Gyn Clerkship Pocket Guide
2 Prescription Examples
2 Pens (unusually low tally)
1 Highlighter
1 Pyxis Scrub Machine Card
$21 in cash
$1.27 in change
1 Pocket Vision Screener (obviously a necessity on L&D?)
1 Ob/Gyn Clerkship Checklist
4 Pieces of Blank Paper with Book Notes
7 Active Patient Lists (not pictured for patient privacy)
7 Page Journal Article on Intrapartum Amnioinfusion for Meconium-Stained Amniotic Fluid
1 Discharge Medication List
1 Patient Log List
1 Daily OR Schedule
HOW?! WHY?! Please tell me I'm not the only one…please?
I suppose I should look at the good news, at least there wasn't a speculum or wet prep hiding in there…I mean I am on Ob/Gyn right now.
Other Posts You May Enjoy:
Trackback URL Link:
I'm an ObGyn. I started this blog as a medical student (some would call that doctor school) and now I'm working as an Ob/Gyn, which is seriously the coolest job ever. I'm a twin mom and recently added a baby brudder to the mix. My life story through November 2010 can be viewed here. The events in the many years following can be summed up as wedding bells, books, exams, babies, and doctoring. I started this blog in hopes of landing a role in a Lifetime movie so I could quit medicine and move to Hollywood, but that hasn't happened...so if you wouldn't take medical advice from Angelina Jolie, you shouldn't take it from me. I may not even be a real person. In fact, I'm probably a spambot. Or possibly a 15 yo boy blogging from a dingy basement. If you're really interested you can read more about me here. If you have any questions or want to guest post contact me.
Dr. Jones on Instagram
Something is wrong. Response takes too long or there is JS error. Press Ctrl+Shift+J or Cmd+Shift+J on a Mac.